PGA Junior Golf Camps Blog

Safety and Golf
May 6th, 2020
With emphasis on safety, golf has been touted as a form of recreation to stay active while keeping social distancing and safe.

With golf being played in the outdoors in wide open spaces, golf has inherent factors that make it safer as a way to keep active. From built in social distancing to more, there are other things you can do to play golf safely and responsibly during this time.
Maintaining Distance

Golf is a sport with built-in distance between participants, making it ideal for social distancing. When out on the course or on the practice areas, golfers should keep a length of at least six feet between each other. With the typical wide-open, outdoor spaces of golf facilities, don't forget to maintain distance while enjoying the fresh air and warmer weather.

Clean and Sanitize

Be sure to clean and sanitize your hands throughout the round. Keep a bottle of hand sanitizer in your bag for easy and constant access. Additionally, after each outing, try to clean and sanitize your grips and clubs.

Avoid Contact

Golf courses are adapting with new policies. Avoid touching the flagstick. With raised cups and other contactless ways of holing putts out, golfers can still enjoy a round without pulling or touching the pin.

Postround Handshakes

Instead of the typical handshake at the conclusion of the round, use a contactless method of communication. Whether it's a wave, bow, or other celebration, feel free to express yourself while keeping clean.
For more information and ideas, here are some links below:
COVID-19 Statement
March 16th, 2020
At PGA Junior Golf Camps, the health and safety of campers is our primary focus.

Like you, we have been monitoring events related to the COVID-19 pandemic. We are working with our partner PGA Professionals, golf facilities as well as the Centers for Disease Control and Prevention (CDC) to determine any changes to our current programming.

We will be notifying you via email and through our online blog of any changes to our current camp schedule. As always, we will be doing all we can to continue to educate and motivate campers for success on and off the course. Please be assured that health and safety of campers and staff is our highest priority and we will continue to monitor the situation throughout the coming months.

Thank you for your support of PGA Junior Golf Camps during this rapidly evolving situation.

Sincerely,
The Team at PGA Junior Golf Camps
Judy Alvarez Receives Patriot Award
January 13th, 2020
Camp directors for PGA Junior Golf Camps have been honored with many accolades, and another national award has been bestowed on one of them. Judy Alvarez received the Patriot Award from the PGA of America at the most recent edition of the PGA Annual Meeting. This award is presented each year to a PGA Professional who personifies patriotism through the game of golf and demonstrates unwavering commitment and dedication to the men and women who served and protected the United States of America.
Alvarez, PGA Head Professional at Sunken Meadow Golf Course in Kings Park, New York, has worked tirelessly over the years with veterans. She established six PGA HOPE programs in South Florida and has led seminars and free clinics for local military organizations. Traveling across the country, her work has impacted thousands of veterans and PGA Professionals. Additionally, she has been involved with Folds of Honor and Salute Military Golf Association. Her work over the years has had profound impacts on the lives of veterans.
In a video from the PGA of America, these veterans share what Alvarez has meant to them. One shared:
"She didn't realize the impact she has on a veteran; how much she gives, and how I'm proud to call her my friend, I'm proud to call her my teacher, my mentor. To me, she's my angel."
With the amount of work she has done with military veterans, the Patriot Award was well deserved. Watch the video below from the PGA of America to learn even more about her great work.
Judy Alvarez - 2019 Patriot Award from PGA of America on Vimeo.
How to Keep the Game Going During Winter
December 11th, 2019
For much of the country, this time of the year is difficult on golfers. Courses are closed, indoor facilities are busy, the temperatures drop lower and lower, and precipitation is a normal occurrence. Here are a few ideas to help keep your game sharp during the winter.
Work on Your Grip
Even when the outdoors is wet or cold, you can always practice one of the most important aspects of the golf swing. After you're shown a proper grip, practice holding the golf club correctly. Repeat the process of holding the club properly until it's ingrained in your muscle memory.
Maintaining a good grip is important to good shots, allowing golfers to control the clubface more easily. Since the ball will head in the direction the clubface is pointing at impact, a good grip help maintain a stable clubface, assisting in producing more consistent good shots out on the course.
You can take a golf club and practice this at any time. For instance, while watching TV, practice your grip while sitting down. Grip the club, take your hands off, and re-grip the club. By the time golf season swings by, you'll have one more element in your swing down pat.
Putt for Dough
A 300 yard drive straight down the fairway counts the same on the scorecard as a putt, and getting the flatstick going is an essential part to any good round of golf. You can build a solid putting foundation by practicing indoors. Using a putting mat or just your carpet, golfers can repeatedly work on their stance and stroke. You can also improve aim and start line by introducing a target to your putting practice. If you're on using carpet, a mug can suffice as an appropriate target. You'll be able to make those testy little knee knockers look like gimmes, and hopefully lower your scores!
Fitness and Strength
Winter is the perfect time to build the muscles and flexibility in your body. The time you would use on the practice green or driving range can be spent in the gym. With the amount of literature available on golf fitness, you can find the information to tailor your workouts to your specific needs. The benefits of spending time in the gym are plentiful. Improving your strength and flexibility can lead to longer shots. Who doesn't love hitting a long drive past their playing partners? The benefits of your winter workouts will show up in the spring, leading to more fun out on the links.
Professional Help
Attend one of the winter PGA Junior Golf Camps at participating locations! You'll be able to have fun and learn golf under the expertise of a PGA Professional!
2019 Summer Camp Photos!
July 18th, 2019
WIN A WEEK OF GOLF CAMP!
Summer is in full swing and we want to see your best photos from golf camp! Be sure to tag us and you could win a free hald day camp session!
Show off that improved golf swing, sinking a long putt, new camp friends or PGA camp swag and we will pick a winner at random to receive a golf camp credit to use on a future camp!
Facebook | Instagram | Twitter
(Camps are subject to availability)
Check out these photos from camp so far this summer!
"I can't think of a more exciting time for women in sports."
July 18th, 2019
Victoria Elizabeth is the camp director at TPC River's Bend located outside of Cincinnati in Maineville, Ohio. As a lifelong golfer who has experienced play on the largest stages in junior golf all the way to winning LPGA events, Victoria is dedicated to passing along the game of golf to the next generation of female golfers.
With Team USA's recent win in the Women's World Cup of soccer, I can't think of a more exciting time for women in sports. I find it amazing that so many Women's Golf Scholarships go unused, actually the most of any sport. According to The National College Athletic Assn. (NCAA), every year 200 college golf scholarships for young women go unclaimed. Too few girls compete in the sport to qualify for these scholarships, which means many young women are missing an opportunity that could make all the difference to their education, their income and their future.
My path to a golf career was not traditional, as I moved to Florida at the age of 12 to attend IMG academy for both golf and tennis, soon focusing my efforts on golf. As such I was able to play in countless junior tournaments and had the good fortune of working with incredible coaches. I was online homeschooled and my days were dedicated to practicing and working out. I traveled across the US to play on the AJGA, FCWT and many other junior tours. I reached 3rd in the Golfweek Junior Girls Rankings before qualifying to play on the Symetra Tour at age 16, foregoing college and turning professional at 17. I went on to play 4 seasons on the Symetra Tour before earning my way onto the LPGA tour where I would play another 4 seasons with my last being in 2016.
The skills developed while playing golf have translated into amazing opportunities off the course. Golf teaches us so many lessons about personal character, integrity, work ethic, respect for the rules, honesty with our self and others, skills we don't realize we are developing, but that translate into highly desirable traits among humans and employers alike. Sure, if you want to go to college, there are many opportunities to get a scholarship, develop life long besties, and obtain your degree while playing the game. It is a great way to get your degree. Employers appreciate seeing college athletes come through their ranks who have an excellent work ethic and personal goals/drive. It also helps to have a strong player on staff for those corporate golf events! I embraced the entrepreneurial aspects of the golf industry and am building my own teaching business. Golf is so much more than we give it credit for. Some people are not as dedicated to the sport as I am, and I have found a way to align my passion and career, so I feel extremely blessed. Being an ambassador of the sport has always been part of who I am. The business of golf includes so many different things, player, teacher, general manager, sales representative, club fitter, technical aspects such as software for training and course management… and much more.
You don't have to be a tour level player to work in the industry. Being great at golf is hard work, there is no question about it. But I encourage everyone to play. It is a rewarding and enjoyable sport that can be played alone, with family, spouse, kids, friends, or total strangers. You can be as good as you want, or just capable of making contact with the ball. To parents, my advice is to keep it fun for the kids. Some won't want to practice for hours a day like I did, and that is okay. Sometimes just going to the putting green for 15 or 20 minutes is time well spent, for skill development and having time with them developing a love of the game. Having structure is really important for consistent development, such as a practice plan which I put together for my students, ask your children's coach, or reach out to me for some ideas! Keep it in the short grass and HAVE FUN!
Interested in getting your junior golfer registered for a PGA Junior Golf Camp? Click here to see the camp dates led by Victoria or click here for a full list of the over 140 camp locations!
PGA Junior Golf Camps in the Spotlight
July 16th, 2019
As the PGA Tour rolls on, you might recognize some locations that run PGA Junior Golf Camps. Imagine the excitement your junior golfer would feel when they see the same championship level course that they have played on showcased on TV. Here's a list of tour locations that also run golf camps!
Silverado Resort and Spa - Host of the Safeway Open
Tiburón Golf Club - Host of the QBE Shootout
TPC San Antonio - Valero Texas Open
TPC Twin Cities - Host of the 3M Open
TPC Deere Run - Host of the John Deere Classic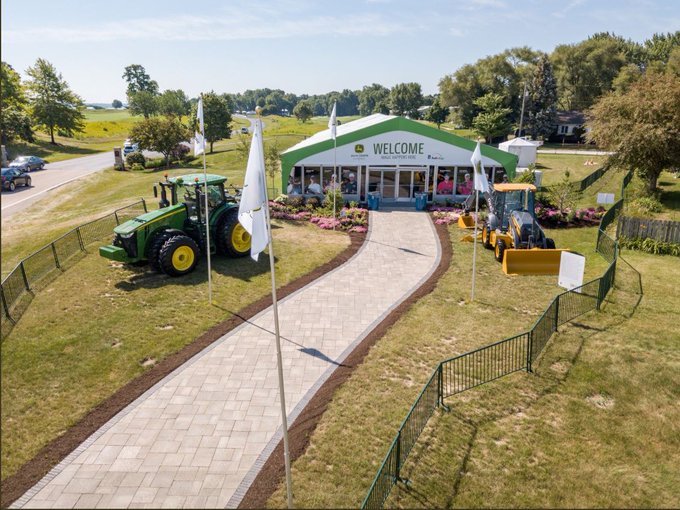 Whistling Straits - Home of the 2020 Ryder Cup!
TPC Harding Park - Home of the 2020 PGA Championship!
TPC Stonebrae - Host of the Ellie Mae Classic
Casa De Campo - Host of the Latin America Amateur Chamionship
TPC Sugarloaf - Host of the Mitsubishi Electric Classic Tournament
TPC Southwind - Host of the World Golf Championships
Chambers Bay - Host of the USGA Championships
April 2021
All News
Don't Miss Out!
Register for camp
Camps instructed by