Little Linksters at Wekiva Golf Club in Longwood, FL
Golf is a fun way to get outside, learn new skills, both physical and mental, and make new friends.
Opened in 1972, Wekiva Golf Club has grown into one of the most established courses in Central Florida due to its solid course design, course conditions and desirable location within a populated residential community. Little Linksters at Wekiva Golf Club is a national award winning organization that offers a wide variety of teaching programs for children, from new golfers to tournament players. Little Linksters offers opportunities to test skills and become part of the team and is taught in a fun and interactive way. The bottom line in the Little Linksters Program is FUN!
Everything you need to know about camp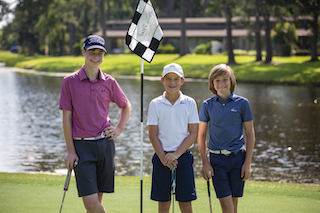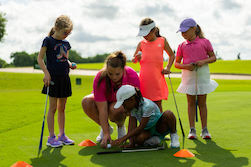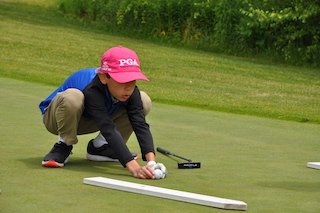 Camp Highlights:
Action-packed camps include hands-on instruction led by certified PGA Professionals.
Signature PGA camp curriculum focuses on developing golf skills (full swing, short game, rules and etiquette) while keeping the experience fun and engaging (games and activities).
A fun, safe and educational environment designed with your child's well being in mind.
Low student to instructor ratio (approximately 6:1)
Half Day Camps are designed to inspire new golfers at the beginning of their journey and further the development of those playing at a beginner to intermediate level. Camps will cover golf fundamentals including posture, grip, putting, chipping, pitching, full swing and simple rules and etiquette. Participants are segmented into smaller groups based on their experience and age to create a favorable and fun learning environment. Skill Level: Beginner to Intermediate.
Advanced Camps are designed for junior golfers who want to advance their game to a more competitive level. Stroke play, match play and other competitions are simulated each day with the end goal being overall game improvement. Lunch and course play is included unless otherwise noted. Skill Level: Advanced.
Modified Full Day Camps provide an opportunity for advanced beginner to intermediate level golfers to continue to improve their technical skills but also begin the process of understanding course management, shot selection and simple stat tracking. Participants are segmented into small groups based on their experience level to create a more favorable learning environment. Lunch and course play is included unless otherwise noted. Skill Level: Advanced Beginner to Intermediate.
Please Note: Advanced Half Day and Modified Full Day Camps do not include lunch.
The Instructors
To be the best, you must learn from the best. That's why every junior golf camp instructor has been trained and tested in all aspects of the game by the PGA of America. Our promise - is to support, encourage, and respect each and every one of our campers and authentically inspire them to reach their full potential, both on and off the golf course.
Brendon Elliott, PGA - Camp Director
Brendon Elliott, PGA, Owner and Senior Director of Instruction at Little Linksters, LLC, in Deltona, Florida, is the recipient of the 2017 PGA Youth Player Development Award. This honor recognizes a PGA Professional who has displayed extraordinary and exemplary contributions and achievement in the area of youth player development. Brandon, a PGA Member for eight years, noticed that every sport aims to catch and inspire kids while young, except golf. Despite many naysayers, Elliott started Little Linksters to introduce children to golf at the same age they are often exposed to other sports. His organization also hosts a G.O.A.L.S. program for children with special needs. His numerous awards include: 2017 PGA Youth Player Development Award, four-time ...More

recipient of the North Florida PGA Junior Leader Award, five-time GRAA Top 50 Growth of the Game Teaching Professional Award winner and three time US Kids Golf Top 50 Kids Teacher.
Jordan Lashoones, Camp Co-Director
Jordan is the Director of Association Programming, and specifically the original program now known as GROW. He is a Graduate of The Golf Academy of America Orlando, has been golfing since the age of 12 and has been playing competitively since the age of 13. Jordan loves his role with Little Linksters and could not be any more loved by his students.
`
Please Note: Camp price does not include a non-refundable, annual registration fee.
4100 Wekiva Club Court
Longwood, FL 32779
The PGA Camps Difference
We have camps for all age groups and abilities, and our best-in-class PGA instruction ensures your child learns from the best.
Camps instructed by