Eisenhower Park Golf Course in East Meadow, NY
Juniors will enjoy playing three of Long Island's finest golf courses at Eisenhower Park, including the famed "Red Course".
Junior golfers will be able to fine tune their skills at Eisenhower Park's 60 bay driving range and four executive level 9-hole courses. The Red Course has a storied history, designed by prominent golf architect Devereux Emmet in 1914 and has hosted PGA Championships as far back as 1926. A second championship-level course, the White, was designed by Robert Trent Jones, who also designed the Blue course.
Everything you need to know about camp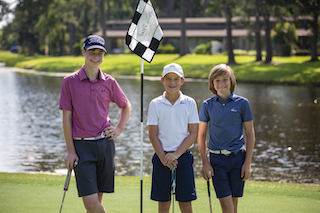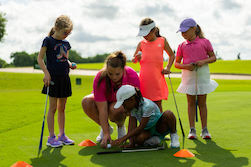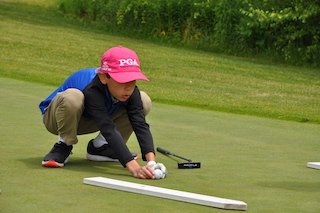 Camp Highlights:
Action-packed camps include hands-on instruction led by certified PGA Professionals.
Signature PGA camp curriculum focuses on developing golf skills (full swing, short game, rules and etiquette) while keeping the experience fun and engaging (games and activities).
A fun, safe and educational environment designed with your child's well being in mind.
Low student to instructor ratio (approximately 6:1)
Half Day Camps are designed to inspire new golfers and further the development of those playing at a beginner to intermediate level. Participants are segmented into smaller groups based on their experience and age in order to create a favorable learning environment. For three hours each day, campers learn and hone their skills with a strong emphasis placed on golf's fundamentals while having fun!
Full Day Camps provide an opportunity for intermediate to advanced junior golfers to continue to improve their skills as well as develop better course management expertise. Participants are segmented into smaller groups based on their ability level and age in order to create a favorable learning environment. Following lunch, campers head to the course for supervised play emphasizing course management, shot selection and rules.
Wee Ones Camps are a fun introduction to golf fundamentals such as stance, gripping, putting, chipping, pitching and full swing. They will also learn basic golf safety, rules and etiquette all while having fun! The instruction will include game-based teaching methods to reinforce the fun side of golf. There will also be activities that work on balance, coordination, locomotion, and body awareness to help the campers improve their overall athletic skills. Skill Level: Beginner.
Modified Full Day Camps provide an excellent opportunity for junior golfers who are ready to take that next step towards course play. Participants will have the opportunity to improve their technical skills and begin to develop course management skills. Participants are segmented into smaller groups based on their experience level in order to create the most favorable learning environment possible. Lunch is provided for Modified full day campers.
Available Discounts (One discount applies per registrant.)
Nassau County Resident – Full Day Camp – NARESFD – $50 off
Nassau County Resident – Half Day Camp – NARESHD – $25 off
The First Tee – Full Day Camp – TFTFD – $50 off
The First Tee – Half Day Camp – TFTHD – $25 off
The Instructors
To be the best, you must learn from the best. That's why every junior golf camp instructor has been trained and tested in all aspects of the game by the PGA of America. Our promise - is to support, encourage, and respect each and every one of our campers and authentically inspire them to reach their full potential, both on and off the golf course.
Justin Koff, PGA - Camp Director
Justin Koff studied PGA Golf Management and graduated from Clemson University in 2011. Upon graduation, he became the Program Director for The First Tee of Nassau County, a life-skills education program taught through the game of golf located at Eisenhower Park. Justin is a Class A PGA Professional and recognized The First Tee coach. He coaches players of all ages and abilities with a strong focus on connecting fitness and golf.
Robert Posillico, PGA - Camp Co-Director
Robert Posillico is Class A member of the PGA. Robert grew up in Long Island and attended Stony Brook University before taking his first job at Hempstead Golf Club as their assistant golf professional. He is currently the head golf professional at Eisenhower Park Golf Course where he has taught for the last 19 years. He is a past winner of the Metropolitan PGA Junior Golf Leader Award and Golf Shop Merchandiser of the year.
`
Summer 2020 Dates Coming Soon!
Stay tuned - we're still working to make sure everything is just right for this upcoming Summer 2020 camp season. Dates and locations will be unveiled soon and we appreciate your patience. If you have any questions or concerns, please do not hesitate to contact us.
Eisenhower Park
East Meadow, NY 11554
The PGA Junior Golf Camps Difference
We have camps for all age groups and abilities, and our best-in-class PGA instruction ensures your child learns from the best.
Camps instructed by