Half Day Camp
Dates: 7/22 - 7/26/2019
Days: Mon, Tue, Wed, Thu, Fri
Time: 9:00AM-12:00PM
Age: 7 to 14 yrs

Bob Sparks Golf Academy at Fairview Farm Golf Course
300 Hill Road
Harwinton, CT 06791
Description
Action-packed camps include hands-on instruction led by certified PGA Professionals.
Signature PGA camp curriculum focuses on developing golf skills (full swing, short game, rules and etiquette) while keeping the experience fun and engaging (games and activities).
A fun, safe and educational environment designed with your child's well being in mind.
Low student to instructor ratio (approximately 6:1)
Half Day Camps are designed to inspire new golfers and further the development of those playing at a beginner to intermediate level. Participants are segmented into smaller groups based on their experience and age in order to create a favorable learning environment. For three hours each day, campers learn and hone their skills with a strong emphasis placed on golf's fundamentals while having fun!
Instructor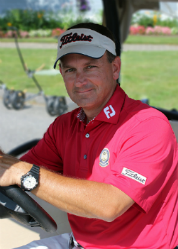 Bob Sparks, PGA - Camp Director
PGA Golf Professional Bob Sparks has taught players of all ages and abilities for 15 years. His education began at The Golf Academy of the South where he graduated third in his class. Bob was elected to PGA membership in 1998 after completing the Golf Professional Training Program with The PGA of America. Bob's philosophy in teaching golf begins with an understanding of how the club works. His beliefs are most players are overloaded with too much information, and are not focused enough on what the club is doing at impact (the moment of truth). Bob believes in trying to put more emphasis on the athlete in you instead of the robot in you. Also, the importance of the ...More

short game is often taken too lightly and Bob will be quick to tell any player that an improved short game is surely the quickest route to lower scores. Bob is a passionate about teaching young golfers to play the game of a lifetime, and his awards and achievements include: 2014 CT Section PGA Junior Golf Leader US Kids Hartford Local Tour Director 2014-present CT Section PGA Board Member and Junior Golf Committee Chairperson 2015-2018
Bob Sparks Golf Academy at Fairview Farm Golf Course
In addition to 18 finely manicured golf holes, Fairview Farm offers a driving range and a two tiered putting greens where junior golfers can continue to build their skills. Juniors will also be part of a tradition of excellence at the Bob Sparks Golf Academy at Fairview Farm which had two teams in 2018 that made up 70 % of the All Stars who competed in the 2018 National Junior League Championship. Previously the site of a working farm, owned and managed by four generations of the Delay family, Fairview Farm is ranked among the top courses in Connecticut.
Bob Sparks Golf Academy at Fairview Farm Golf Course
300 Hill Road
Harwinton, CT 06791